Definition
customer engagement
Customer engagement is the means by which a company creates a relationship with its customer base. As traditional marketing methods become less effective, customer engagement is the currency by which companies are measuring their effectiveness. While there is debate about which measures truly indicate engagement, companies measure website traffic or customers' interaction with certain links on a site, likes and shares of their content on social media, clickthrough rates in email campaigns, as well as conversion rates that measure which various customer actions result in sales (these actions may involve clicking on email content or browsing a site).

Download this free guide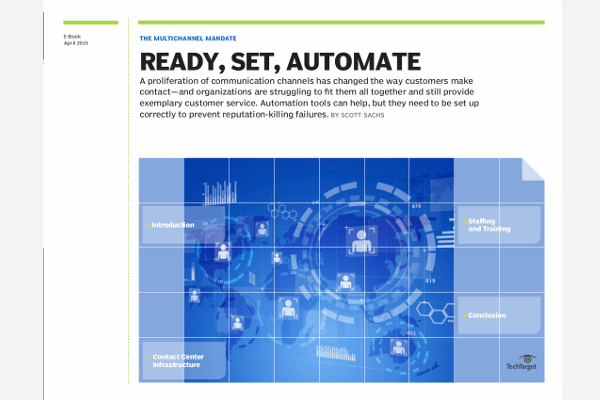 Download Our Multichannel CEM E-Book
Automation technologies help centralize information in the era of multichannel customer service. Read on to understand the backbone automation technologies needed to run an efficient, customer-centric contact center.
By submitting your personal information, you agree that TechTarget and its partners may contact you regarding relevant content, products and special offers.
You also agree that your personal information may be transferred and processed in the United States, and that you have read and agree to the Terms of Use and the Privacy Policy.
Companies may derive data about their customers and products from observing customer engagement patterns. A/B testing of certain website presentations or marketing campaigns may be conducted to determine which methods are more effective in closing a purchase. Testing and data analytics enable companies to better determine which of their efforts they can correlate with higher sales, greater membership or other measures of customer success.
With new form factors such as iBeacon technology and wearables, the digital experience of customer engagement is now combining with physical experiences. So, for example, a company may use beacons to identify that a customer is in a store and send that customer messages about items in an abandoned shopping cart online or discounts based on his presence in-store.
Customers may receive messages on their smartphones or wearable devices. Internet of Things sensors technolocy may also provide the opportunity for customers to engage. They may be able to proactively schedule maintenance on a product, buy new products, or demonstrate loyalty through connected devices. Customer service agents can also use mobile data to approach customers and engage them by highlighting products they may be interested in.
Customer engagement is moving beyond the realm of retail or traditional product sales. Industries like healthcare are using technologies such as customer portals to engage patients in their health regimen and communication with doctors; and new healthcare platforms are emerging with the express purpose of facilitating this communication and patient engagement. Wearables have also been identified as a key tool in patient engagement, enabling patients to measure various health indicators and track their health regimens.
Continue Reading About customer engagement
Dig Deeper on Multi-channel customer experience management
PRO+
Content
Find more PRO+ content and other member only offers, here.