Click Fraud (pay-per-click fraud)
Click fraud (sometimes called pay-per-click fraud) is the practice of artificially inflating traffic statistics to defraud advertisers or Web sites that provide venues for advertisers...(Continued)
Looking for something else?
Click fraud (sometimes called pay-per-click fraud) is the practice of artificially inflating traffic statistics to defraud advertisers or Web sites that provide venues for advertisers. In the common pay-per-click advertising model, advertisers pay a fee for each click on their link. According to a CNET News article some industry segments have costs-per-click of several dollars. By using automated clicking programs (called hitbots) or employing low-cost workers to click the links, the perpetrators create the illusion that a large number of potential customers are clicking the advertiser's links, when in fact there is no likelihood that any of the clicks will lead to profit for the advertiser.
Download: IT Acronyms - A Quick Reference Guide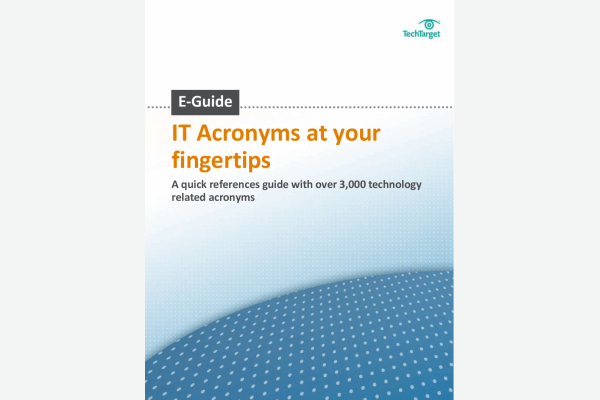 Download this free quick reference guide with over 3,000 IT acronyms; including a special section of the top 15 acronyms you need to know today.
By submitting your personal information, you agree to receive emails regarding relevant products and special offers from TechTarget and its partners. You also agree that your personal information may be transferred and processed in the United States, and that you have read and agree to the Terms of Use and the Privacy Policy.

Click fraud scammers often take advantage of the affiliate programs offered by some Web sites, such as Google and Yahoo! Search Marketing. The scammers sign up for the affiliate programs, agreeing to provide further exposure to the advertising in question and receiving a portion of the pay-per-click fees in return. The perpetrators place the ads on Web sites created solely for this purpose that, naturally, don't have any real traffic. Once the ads are in place, the hitbots or workers generate large volumes of fraudulent clicks, often in a very short time period, for which the scammer bills the owner of the affiliate program. Both Google and Yahoo! Search Marketing have had to reimburse advertisers for pay-per-click fees that were discovered to have been the result of click fraud.
Continue Reading About Click Fraud (pay-per-click fraud)
PRO+
Content
Find more PRO+ content and other member only offers, here.