Definition
clickstream analysis
On a Web site, clickstream analysis (sometimes called clickstream analytics) is the process of collecting, analyzing, and reporting aggregate data about which pages visitors visit in what order - which are the result of the succession of mouse clicks each visitor makes (that is, the clickstream). There are two levels of clickstream analysis, traffic analysis and e-commerce analysis.

Download this free guide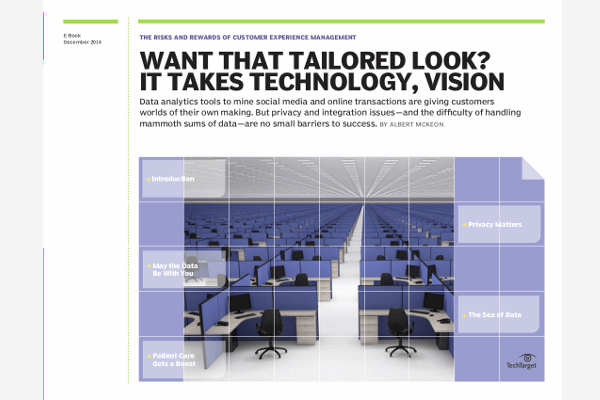 May the Data Be With You: Download Our Customer Data E-book
Data analytics tools to mine social media and online transactions are helping companies maximize customer interactions like never before. Learn how to overcome the inevitable privacy and integration challenges you will encounter.
By submitting your personal information, you agree that TechTarget and its partners may contact you regarding relevant content, products and special offers.
You also agree that your personal information may be transferred and processed in the United States, and that you have read and agree to the Terms of Use and the Privacy Policy.

Traffic analysis operates at the server level by collecting clickstream data related to the path the user takes when navigating through the site. Traffic analysis tracks how many pages are served to the user, how long it takes pages to load, how often the user hits the browser's back or stop button, and how much data is transmitted before a user moves on. E-commerce-based analysis uses clickstream data to determine the effectiveness of the site as a channel-to-market by quantifying the user's behavior while on the Web site. It is used to keep track of what pages the user lingers on, what the user puts in or takes out of their shopping cart, and what items the user purchases.
Because a large volume of data can be gathered through clickstream analysis, many e-businesses rely on pre-programmed applications to help interpret the data and generate reports on specific areas of interest. Clickstream analysis is considered to be most effective when used in conjunction with other, more traditional, market evaluation resources.
Continue Reading About clickstream analysis
Dig Deeper on CRM analytics and business intelligence
PRO+
Content
Find more PRO+ content and other member only offers, here.