cost center
A cost center is an organizational department or function that does not produce direct profit and adds to the cost of running a company but that is nevertheless crucial to the organization because it adds to profitability indirectly or fulfills some other mandate... (Continued)
Looking for something else?
TECHNOLOGIES
A cost center is part of an organization that does not produce direct profit and adds to the cost of running a company. Examples of cost centers include research and development departments, marketing departments, help desks and customer service/contact centers.
IT Acronyms - A Quick Reference Guide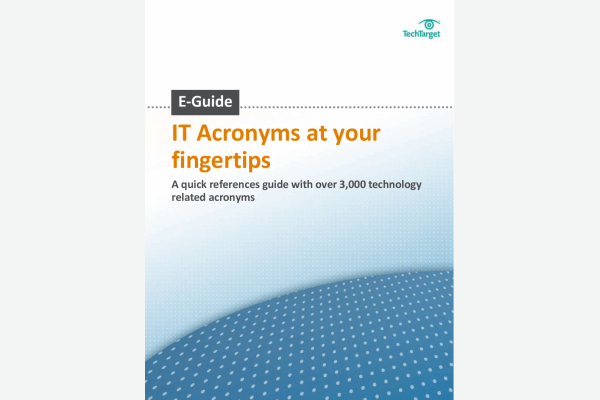 Download this free quick reference guide with over 3,000 IT acronyms; including a special section of the top 15 acronyms you need to know today.
By submitting your personal information, you agree to receive emails regarding relevant products and special offers from TechTarget and its partners. You also agree that your personal information may be transferred and processed in the United States, and that you have read and agree to the Terms of Use and the Privacy Policy.

Although not always demonstrably profitable, a cost center typically adds to revenue indirectly or fulfills some other corporate mandate. Money spent on research and development, for example, may yield innovations that will be profitable in the future. Investments in public relations and customer service may result in more customers and increased customer loyalty.
Because the cost center has a negative impact on profit (at least on the surface) it is a likely target for rollbacks and layoffs when budgets are cut. Operational decisions in a contact center, for example, are typically driven by cost considerations. Financial investments in new equipment, technology and staff are often difficult to justify to management because indirect profitability is hard to translate to bottom-line figures.
Business metrics are sometimes employed to quantify the benefits of a cost center and relate costs and benefits to those of the organization as a whole. In a contact center, for example, metrics such as average handle time, service level and cost per call are used in conjunction with other calculations to justify current or improved funding.
Continue Reading About cost center
ITKE asks:

Which "call center" has been most valuable to your organization? Research and Development? Customer service?

ITKE asks:

Do you consider the call center a strategic part of your organization?