Definition
entity relationship diagram
An entity-relationship diagram (ERD) is a graphical representation of an information system that shows the relationship between people, objects, places, concepts or events within that system. An ERD is a data modeling technique that can help define business processes and can be used as the foundation for a relational database.

Download this free guide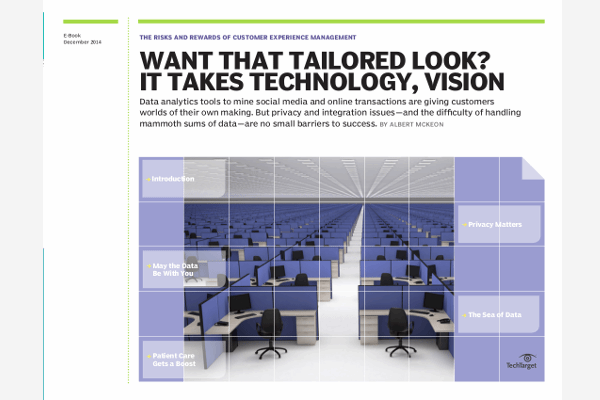 May the Data Be With You: Download Our Customer Data E-book
Data analytics tools to mine social media and online transactions are helping companies maximize customer interactions like never before. Learn how to overcome the inevitable privacy and integration challenges you will encounter.
By submitting your personal information, you agree that TechTarget and its partners may contact you regarding relevant content, products and special offers.
You also agree that your personal information may be transferred and processed in the United States, and that you have read and agree to the Terms of Use and the Privacy Policy.
While useful for organizing data that can be represented by a relational structure, an entity-relationship diagram can't sufficiently represent semi-structured or unstructured data, and an ERD is unlikely to be helpful on its own in integrating data into a pre-existing information system.
Three main components of an ERD are the entities, which are objects or concepts that can have data stored about them, the relationship between those entities, and the cardinality, which defines that relationship in terms of numbers.
For example, an ER diagram representing the information system for a company's sales department might start with graphical representations of entities such as the sales representative, the customer, the customer's address, the customer's order, the product and the warehouse. (See diagram) Then lines or other symbols can be used to represent the relationship between entities, and text can be used to label the relationships.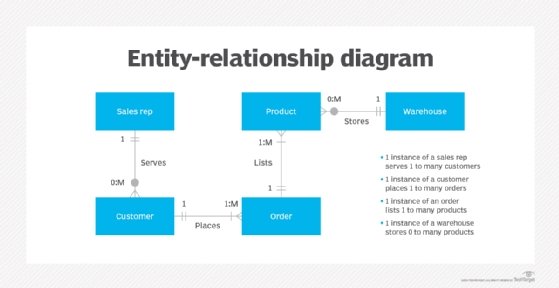 Finally, cardinality notations define the attributes of the relationship between the entities. Cardinalities can denote that an entity is optional (for example, a sales rep could have no customers or could have many) or mandatory (for example, the must be at least one product listed in an order.)
The three main cardinal relationships are:
One-to-one (1:1). For example, if each customer in a database is associated with one mailing address.
One-to-many (1:M). For example, a single customer might place an order for multiple products. The customer is associated with multiple entities, but all those entities have a single connection back to the same customer.
Many-to-many (M:N). For example, at a company where all call center agents work with multiple customers, each agent is associated with multiple customers, and multiple customers might also be associated with multiple agents.
While there are tools to help draw entity-relationship diagrams, such as CASE (computer-aided software engineering) tools, some relational database management systems also have design capabilities built in.
Continue Reading About entity relationship diagram
Dig Deeper on Data quality management in CRM
PRO+
Content
Find more PRO+ content and other member only offers, here.