Definition
key performance indicator (KPI)
A key performance indicator (KPI) is a business metric for evaluating factors that are crucial to the success of an organization. The purpose of using key performance indicators is to focus attention on the tasks and processes that management has determined are most important for making progress towards declared goals and targets.

Download this free guide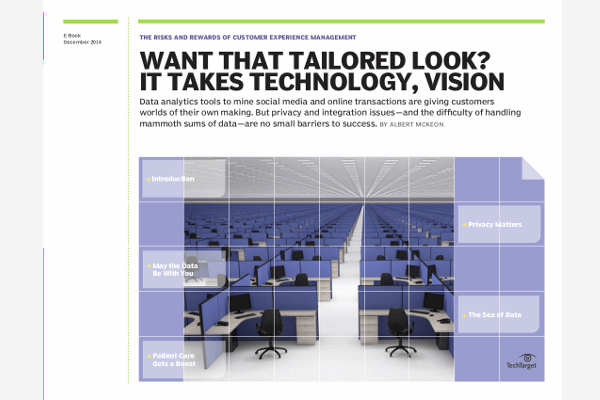 May the Data Be With You: Download Our Customer Data E-book
Data analytics tools to mine social media and online transactions are helping companies maximize customer interactions like never before. Learn how to overcome the inevitable privacy and integration challenges you will encounter.
By submitting your personal information, you agree that TechTarget and its partners may contact you regarding relevant content, products and special offers.
You also agree that your personal information may be transferred and processed in the United States, and that you have read and agree to the Terms of Use and the Privacy Policy.
KPIs differ per organization. For example, a key performance indicator for a public company may be its stock price while a KPI for a government might be a low unemployment rate. KPIs will also differ for roles people play in the same organization. For example, a Chief Executive Officer (CEO) might consider profitability as the most important key performance indicator, while a sales team manager in the same company might consider successful service level agreement (SLA) delivery numbers as the most important factor.
Because KPIs often gauge abstract targets such as user experience or job ticket turnaround effectiveness, identifying useful performance indicators can be challenging. The selection of appropriate performance indicators depends, in part, on the organization's ability to actually measure the indicators. Typically a management team will gather requirements and analyze correlations between metrics, but in the end, they must put the KPIs in practice and observe what behaviors they encourage.
Once key performance indicators have been determined, management must continually refine the indicators to ensure they reinforce each other and do not cause conflicting priorities. In addition to being quantifiable, all key indicators should be well-defined and communicated to clearly. Each KPI should be part of the next higher-level summary, so that all levels of the organization are pulling in the same direction.
Many successful companies limit scope to small sets of performance indicators that evaluate the success of individuals in the organization. Because having too many performance indicators can dilute the employee's attention to the point at which key indicators do not get the attention they deserve, it may be effective to:
1. Identify which three to five indicators should be tracked for each employee role or line of business (LOB).
2. Implement automated tools to collect data and present KPIs to company management, using tools such balanced and performance scorecards or executive dashboards.
3. Evaluate how well the employee or LOB is making progress towards the organization's strategic business goals.
4. Re-evaluate how well the KPIs are supporting current business goals.
5. Make adjustments as needed.
Continue Reading About key performance indicator (KPI)
PRO+
Content
Find more PRO+ content and other member only offers, here.