Get started
Bring yourself up to speed with our introductory content.
A guide to mobile CRM applications
Discover how mobile CRM applications are keeping contact centers on the go.
Introduction
Life is busier than ever before, and it is important for people on the go to remain connected and able to multitask. Consumers don't want to be tied up on the phone with a customer service agent when there is so much to be done, and organizations are responding with mobile CRM applications. Approximately 56% of American adults use smartphones, so it's no wonder the demand for mobile CRM applications has increased.
But how much is too much? As a consumer, being connected 24/7 is convenient, but as an employee … not so much. Many workers now feel tethered to the office and that their workdays never really end, posing a real challenge to work-life balance.
This guide examines the opportunities that come with mobile CRM applications, addresses work-life balance issues and provides several case studies that relate the successes and challenges organizations have had with mobile CRM.
1

Mobile CRM

-
Mobile CRM and the call center
In today's world, consumers are always on the go and need to multitask at any given time, including when dealing with customer service. Many companies have recognized the demand for mobile customer service and are responding accordingly. Microsoft Dynamics CRM Mobile -- due for an update in Fall 2013 -- has mobile, social and cross-browser capabilities, and Salesforce has tossed its hat in the ring with HTML5. Discover how Forrester Research rates some of the CRM products available and learn how mobile CRM has changed contact center operations.
2

Mobile CRM applications

-
Mobile CRM applications trends
The popularity of smartphones and tablets has required the advancement of mobile CRM to include applications a consumer can use to contact customer service in lieu of a phone call. Mobile CRM apps allow a customer to conduct business at the touch of a screen, and if they require more assistance, a customer service representative can take over with the necessary information already at hand. Learn how designing an app is not as easy as it seems, and why an app should not just serve as a smaller version of a website.

Download this free guide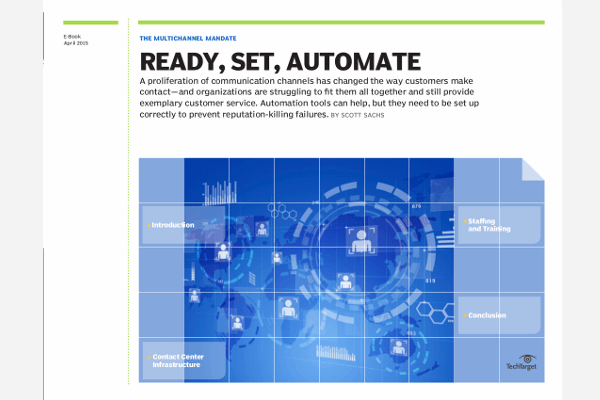 Download Our Multichannel CEM E-Book
Automation technologies help centralize information in the era of multichannel customer service. Read on to understand the backbone automation technologies needed to run an efficient, customer-centric contact center.
By submitting your personal information, you agree that TechTarget and its partners may contact you regarding relevant content, products and special offers.
You also agree that your personal information may be transferred and processed in the United States, and that you have read and agree to the Terms of Use and the Privacy Policy.
3

Case studies

-
Mobile CRM in action
Mobile CRM is now being used by high-profile organizations in various areas of business, and this section profiles four of them: The Boston Red Sox, Krispy Kreme, Emirate Airlines and clothing retailer Harry Rosen. Learn how each organization uses mobile CRM to create more personal interactions with their customers and the positive impact it has on sales, patronage and customer loyalty.