Multichannel integration is the next step for customer service
There have never been more ways to connect with customers. That's why forward-thinking companies are integrating data across channels.
Looking for something else?
TECHNOLOGIES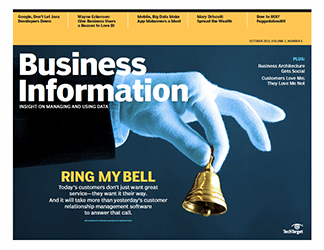 Download
The Metropolitan Utilities District of Omaha, Neb., wrestled with what has become all too common in the retail and service industries: A customer checks a bill online, following up minutes later with an email to report an unresolved issue. Not satisfied with the automated response, she calls the service center, and while on hold for 10 minutes, tweets about the company and updates Facebook friends about the ordeal.
That's what MUD was up against as customers clamored for convenient access to billing information and prompt responses to gas and water service requests. Until recently, the utility was stuck in the antiquated age of the isolated call center in which 50 employees fielded calls from a customer base of about 225,000 households.
"We are being compared with anyone in the service industry, and we are under pressure to interact differently with our customers," said Mark Doyle, MUD's senior vice president and chief information officer.
As the number of ways to connect with others increases -- mobile, text, social media -- people expect to use those same channels to interact with the companies they do business with. But simply having a Facebook page and a presence on Twitter isn't enough. Retailers and companies in service industries need to be proactive online, offering up information-- such as a bill or a shipment status-- before the customer makes an inquiry. They need to react to tweets or posts within minutes, if not seconds, offering assistance when needed.
It's a whole new approach to customer service, and it can't be done with traditional customer relationship management software alone. Instead, companies are also likely to need more advanced customer experience management, or CEM, applications that can monitor multiple channels, analyze actions and deliver details about every click to the right service rep at the right time. It's a complicated integration job, since it requires managing structured and unstructured data sets from a variety of sources. It also requires a new customer service skill set.
Doyle, who spent 23 years in banking before moving to the district nearly three years ago, understands the need to exploit every communication channel, from voice, text and email to Web chat and social and mobile connections. More important, he knows the best customer experience relies on synchronizing channels as well as blending historical data with personalized content, such as recommending a blog on energy-saving techniques to customers with higher-than-average bills -- similar to how Facebook delivers relevant information to users based on data it collects about the things they "like."
"It's not uncommon to get a Facebook message that says, 'I've been on hold for 20 minutes,' " Doyle said."We talk to them and turn the interaction into something positive, so it becomes somewhat of a marketing tool."
Tools of the trade
CEM tools are getting smarter and more powerful, but integrating data from these channels is still the Holy Grail and not easily incorporated into the corporate fabric, because it requires a sizeable IT investment and significant business process changes.
MUD uses SAP's customer relationship management software to provide customers with Web-based self-service forms to start or stop service, interactive voice response technology and business communication management tools to prioritize calls in the service queue. The utility is also exploring the use of mobile text messaging to alert customers about payments due or service disruptions, but that requires collecting cell phone numbers -- and right now MUD has just a database of email addresses.
Doyle is laying the groundwork for what he expects will be a big shift in the way MUD interacts with customers. His motto is, "If Amazon can do it, the district should be able to."
But plain-vanilla CRM isn't going to cut it.
For example, SAP also offers SAP 360 Customer, powered by its heavily promoted HANA in-memory platform; that product suite integrates the vendor's CRM applications with analytics, cloud technology, mobility, collaboration and social media to deliver personalized service through any channel. Using HANA and analytics to process large amounts of data in real time, SAP 360 could enable MUD to tell customers what they need before they know they need it -- like a water heater upgrade.
Similarly, technology vendors like Nice Systems, Aspect and IBM Tealeaf are emerging with multichannel customer engagement tools designed to unify all customer interactions on the back end. These tools interpret information so companies can act on it, and they do that using big data analytics to observe the bidirectional flow of customer interactions across structured information, such as database records, and unstructured data, like online chats.
The multichannel CEM technology captures and analyzes inbound traffic to drive targeted customer engagement tactics, like coupon offers. Tealeaf, for example, is an on-premises application that observes mobile and website traffic to determine interaction trends, especially those that show when customers may not be satisfied. Perhaps someone is adding items to an online shopping cart and then goes back to the website FAQs and suddenly empties the cart and abandons the site. Tealeaf can replay the user experience based on the data captured to figure out what went wrong.
"It's understanding the things that happen on the edges," said Geoff Galat, Tealeaf's vice president of marketing. "You don't need Tealeaf to know the website is down; you need it to understand the little nagging things that happen every day and get in the way of what the customer is trying to do online."
You also need CEM technology to correlate online and offline transactions. If someone is filling out an application for a mortgage loan on a bank's website and then calls the customer service number in the middle of the task, shouldn't the call center agent be able to see what the applicant already did so he doesn't have to start from scratch? Still, few companies are adopting this kind of channel strategy.
Baby steps to CEM
A survey by Econsultancy, a digital marketing and e-commerce consulting firm, showed that only 4% of 500 respondents worldwide from a variety of business sectors believe they provide an "excellent" multichannel experience for their customers. The majority of companies polled called their company's multichannel strategy "OK" or "poor."
Most organizations, like MUD, are still in the early stages of multichannel integration. "Everyone is talking about it, but linking [customer channels] is still very difficult," said Leslie Ament, an analyst at Hypatia Research Group, a research and advisory services firm.
First, organizations have to change the way they do business, Ament said. A typical retailer may have four or five business units, each with their own applications, data warehouse and analytical tools and dedicated sales, marketing and customer service staffs. To accommodate new channels like social media and mobile commerce, there needs to be unity across divisions and departments, including customer service and IT. To help make that happen, one person should lead the effort—such as a CIO, a chief customer officer or even a CEO.
Right now, having a single person in charge of channel integration is not the status quo.
According to IT consultancy Constellation Research, only 1.1% of business-to-consumer and 1.9% of business-to-business organizations have a single executive responsible for the entire order-and-shipment process. Additionally, 87% of organizations have social media initiatives that are separate from e-commerce activities and headed by different business executives.
Ament suggests a new kind of leader to spearhead a multichannel customer experience program.
"I advocate finding a marketologist," Ament said. That's either a technology person who knows business or a marketing expert who understands technology. And he or she better be social.
The social business
Industry observers say social media is the new customer service interface -- it offers real-time, two-way communication and is a public platform that's used to quickly spread messages, good and bad. For instance, the image of a Taco Bell employee licking a Cool Ranch Doritos Locos Tacos shell in a video that went viral became a quality-control embarrassment for the franchise. But other companies are being applauded for using a social media site like Twitter as a customer service tool: JetBlue for its quick responses, Nike for its customer support and Comcast for its technical troubleshooting.
Enterasys Networks Inc. also uses Twitter and other social media streams to cultivate brand loyalty with customers.
The journey toward social consciousness began in 2006 when Enterasys, which makes network systems and security gear, was acquired by two investment firms and became a private company. It underwent a massive cultural shift, breaking down departmental silos and transforming into a customer-focused company that required internal collaboration and opened a direct communication path to the CEO. To do that, Enterasys adopted tools like Salesforce Chatter to share sales wins, product updates and company news across the organization.
Seeing a positive response, the company's CIO suggested that Vala Afshar, who at the time was leading the company's call center services group, start blogging and tweeting about Enterasys technology and industry trends. Today, with more than 20,000 Twitter followers, Afshar has become an industry luminary, making Enterasys a known quantity in social circles.
"We had influence in a market that we never had a voice in," said Brad Martin, vice president of engineering operations and quality at the Salem, N.H., company.
But Martin added that tweeting isn't enough to create the ideal social business. He and Afshar, who is now CMO and chief customer officer at Enterasys, outlined six elements they say need to be addressed in The Pursuit of Social Business Excellence, a book they co-wrote. In order of importance, the prescribed ingredients are culture, people, strategy, process, structure and, finally, technology.
Start with the collective personality of the business, Martin said, from the core values and mission to the people who shape the company's future. Then communicate the business strategy throughout the workforce. From there, adapt processes accordingly, and a structure will grow, enabling ideas to flow seamlessly throughout the organization. Once that internal shift takes place, then technology can be deployed to deliver on the promise of personalized service.
"You have to build in that foundational order; otherwise it's like building a foundation on sticks. If you put too much weight on it, it will collapse," Martin said.
Tealeaf's Galat agreed. "There are barriers to multichannel [customer engagement], but it's not technology; it's the way the business is organized."
At MUD, for example, Doyle said the Web-based self-service forms were easy to implement. "But making sure IT, customer service and management worked together to live up to the service levels expected has been the greatest challenge."
One step beyond
For companies like Raxco Software Inc., which sells defragmentation applications to improve computer hard drive performance, providing superior tech support and customer service is paramount. In 2007 it gave customers a voice in an online user community where they could engage in peer-to-peer discussions, see tutorials and download whitepapers.
Branching out to Facebook, Twitter and LinkedIn was the next step, and to help manage what could have been a fragmented channel model, Raxco deployed HubSpot, an inbound marketing platform for storing custom fields with highly personalized data, which can also be integrated into a CRM system.
The idea behind HubSpot is to create a seamless line of communication between vendor and customer -- which ideally leads to higher conversion rates. For example, having access to specific customer data has allowed Raxco to target niche customers, like gamers or photographers, and start conversations with them.
The result: "We've seen an uptick in both leads and conversions," said Joe Abusamra, the company's vice president of marketing and operations, who oversaw the HubSpot deployment in January.
And it's all about revenue, isn't it? What organizations are really doing with customer engagement initiatives is building brand loyalty to keep people coming back.
To that end, Enterasys took its relationship with its customers a few steps further. The company, which has a specialized offering for colleges and universities, created a social forum for school officials that exploits its own proprietary middleware, called ISAAC, or intelligent socially aware automated communications. The technology is embedded inthe company's network and can leverage social networks to collaborate, communicate and manage the equipment.
"ISAAC is part of how we engage with our customer," Martin said. "It drives two-way communication through social tools. A lot of the higher-education admins are students, and they are on Facebook and Twitter, so we made their ability to manage the network through social tools a reality."
Martin said the Enterasys team is always evaluating what to do next. Especially because a growing number of its customers—everyone's customers, in fact—are ultra-connected Millennials, who grew up with smartphones in their hands. So it's not out of the question that a trendy video app like Vine or Instagram could become yet another customer channel.
"We are adapting regularly," Martin said. "You have to, because if you're not, you're dead."
About the author:
Stephanie Neil is a freelance writer and a correspondent for Business Information. Email her at stephanieneil@comcast.net.
Dig Deeper on Customer experience management strategy
PRO+
Content
Find more PRO+ content and other member only offers, here.