Sales force automation
Gold Award:
Salesforce.com, Summer '04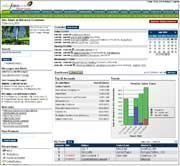 With a growing emphasis on sales effectiveness, companies everywhere need more agile and flexible sales force automation tools. That's why our judges gave Salesforce.com the Gold Award in this category. In fact, Salesforce.com received the highest possible marks for ease of integration, functionality and performance from several of our judges.
Salesforce.com released Summer '04 in July and includes more than 100 new customization, integration and functionality features. It's the 16th version of the company's on-demand CRM application and provides a powerful, customizable suite of sales force automation tools. Sales functionality includes lead management, opportunity management, global forecasting, territory management, workflow automation, real-time alerts, update reminders, team selling, account management, activity management, product catalog, sales literature, e-mail prospecting and tracking, stay-in-touch relationship builder, data quality tools and sales analytics. It also integrates with applications that sales teams are accustomed to using like Microsoft Outlook, Word and Excel.
Summer '04 includes a customizable "My Salesforce.com" home tab, which allows business administrators to easily modify the salesforce.com home page for a variety of user groups. Also new to this release is a Web Tabs feature, which enables administrators to embed critical Web content like expense reports, maps or company research tools into the Salesforce.com user interface.
And, because Salesforce.com is accessed via a browser (no software), it's accessible from virtually anywhere -- desktop, laptop, Internet cafe, mobile devices, etc.
Summer '04 is available at $65/user/month for the Professional Edition and $125/user/month for the Enterprise Edition.
Read more about Summer '04