Evaluate
Weigh the pros and cons of technologies, products and projects you are considering.
A buyer's guide to choosing the right CRM product
Navigating the evaluation and buying process for a CRM product or system isn't easy, but we've simplified this process by providing you with insight to help make a well-informed buying decision.
Introduction
With today's ultracompetitive market, companies can't afford to lag behind when it comes to managing their interactions with current and prospective customers. And as a general rule, it's easier to sell to existing customers than it is to find new ones. To help create repeatable, consistent customer engagement strategies, organizations are turning to CRM systems.
CRM products and strategies play an increasingly important role in the success of most, if not all, organizations today. They address the growing demands in the areas of marketing automation, sales automation and customer service. Whether you need to identify potential customers, analyze social media data or align the sales and buying processes, CRM systems play a major role in the overall customer lifecycle.
So, how do know which CRM product is right for your organization? This buyer's guide sets the stage by identifying the different types of CRM products and what each does. Next, we help you identify your needs and the issues you're trying to solve by delving into how other organizations use CRM systems. We examine the items central to the decision-making process, such as features, functionality, application delivery, software support and pricing.
To help you further narrow down your list of potential CRM products, this guide also evaluates CRM tools from 11 of the market-leading vendors. This information will help you invest in an extensible, scalable platform that will grow with your organization.
1

What is?

-
How CRM products help maximize customer relationships
CRM products address organizations' growing demands in the areas of marketing automation, sales automation and customer service.
Feature
There are several different types of CRM tools that can be used to improve your customer engagement strategies. Continue Reading
2

Do I need?

-
The benefits of buying a CRM product
Learn how other companies are implementing CRM to address a variety of customer engagement issues, including finding, catching and retaining good customers.
Feature
One of the best ways to justify the purchase of CRM software is to explore how other organizations use it in their customer engagement strategies. Continue Reading

Download this free guide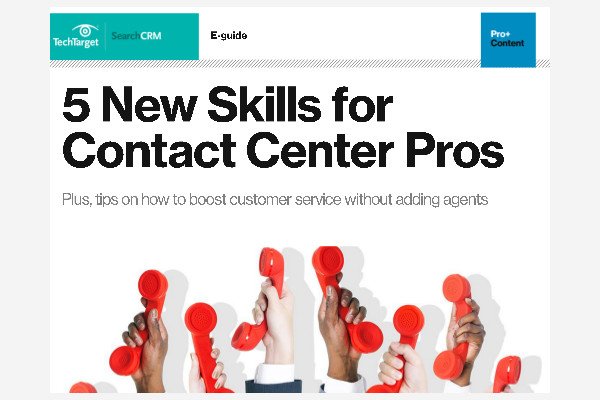 5 New Skills for Contact Center Pros
What are the best new skills you should have in your contact center management toolkit? Scott Sachs, call center technology guru and president of SJS Solutions, explains 5 critical ones.
3

How to buy

-
Criteria for buying the right CRM product
Selecting the CRM product that's right for your organization involves identifying your must-have features and functionality as well as other key factors such as method of application delivery, available support and pricing.
Feature
By identifying your must-have features, you can select the right CRM tool you'll need in order to build your customer engagement strategy. Continue Reading
4

Which should I buy?

-
Choosing the right CRM product
We've simplified your selection process by examining the top 11 CRM products based on functionally as well as delivery methods, upgrade cycles, service options and pricing models.
Feature
Whether you're a large enterprise or an SMB, we've narrowed your search for the best CRM software by comparing both on-premises and SaaS offerings from the top 11 vendors. Continue Reading
5

The leading CRM products

-
CRM products from the market leaders
This section provides overviews of the top CRM products by comparing the strengths and weaknesses of both on-premises and cloud-based offerings from the top 11 vendors.